WANT TO JOIN MICHCANSKA? CLICK THE FOLLOWING LINK AND DOWNLOAD THE FORM:club-application-form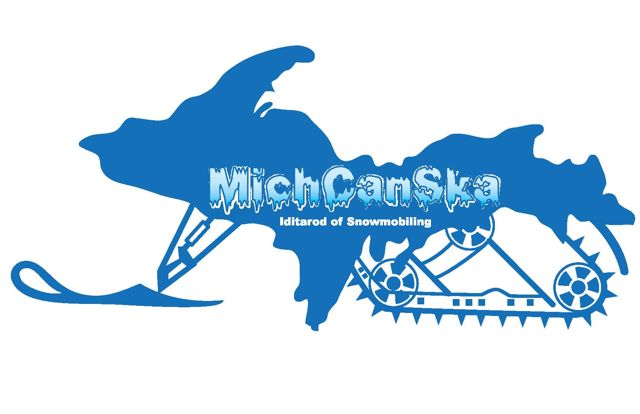 In 2010 72 Snowmobilers Rode a 4,000-Mile Trek Through Sub-Zero Climates in 20 Days
MichCanSka Adventures Benefits Diabetes Research
(February 23, 2010) – The Winter Olympics aren't the only snowy weather events taking the spotlight in Canada right now.  MichCanSka  is an international snowmobiling charity ride from Michigan to Alaska (through Canada) that benefits Diabetes Research.  Participants from several states started out on February 15th, 2010 with a ceremonious ride around the famous Soo I-500 snowmobiling track in Sault Ste. Marie, MI, and will finish in Tok, AK, after 20 days.  Billed as the "Iditarod of Snowmobiling," the event is the brainchild of Bill Bradfield of Cadillac, MI, a retired sheet metal worker and Vietnam veteran who has type 2 diabetes.
"It is my passion of a lifetime to ride from Sault Ste. Marie, MI, 4000 miles on a snowmobile through the dead of winter to Tok, AK, to raise awareness of the need for future research for this dreaded disease," said Bradfield, who has been snowmobiling for 41 years.  Throughout his career with the Building and Construction Trades Department (AFL-CIO), Bradfield has been raising funds and awareness for Diabetes Research.
"It gave me a tremendous feeling of gratitude being able to help people less fortunate than myself, not knowing that someday I too would be stricken with this horrible disease," he said.
Some participants have diabetes.  Others are riding in honor or in memory of a loved one with diabetes.  All riders are in it for the thrill-seeking adventure of a lifetime.  Maintaining a distance of 200 miles per day, participants set out in three groups each a day apart.  Their travels are being documented and videotaped daily at MichCanSka.com.  Their snowmobiles will carry them across rugged terrain and spectacular landmarks, such as the Trans Canada Trail, the Yukon Territory, and the original gold rush mining town of Dawson City, plus a grand finale of riding across the Top of the World Highway in Alaska.
_________________________________________________________
February 2010
From Sault Ste. Marie, Michigan, to TOK, Alaska… the snowmobile adventure of a lifetime!
In October of 2008, I announced an idea I had been mulling over for a couple of years, an International snowmobile adventure to Alaska. In the course of about 30 days this idea snowballed, attracting the interest of just about the entire snowmobile community. Some of the interested parties include: Cadillac Winter Warriors, Northwest Michigan Recreational Snowmobile Council, Michigan Snowmobile Association (MSA) and Nelsons Speed shop from Greenville, Michigan, one of the largest snowmobile dealers in the country. The ride will highlight three unique elements. Firstly, the ride will encourage awareness concerning Diabetes, raising money to further research, in hopes of a cure. Secondly, the ride will serve as a tribute to some of the major snowmobile manufacturers including: Arctic Cat, Polaris, Ski – Doo, and Yamaha – in gratitude, for providing the high quality machines enthusiasts have depended on, for so many years. Lastly, the ride will serve as pure enjoyment, for passionate riders, from all over the world. Additionally, we have opened the lines of communication with the American Council of Snowmobile Associations, the Canadian Council of Snowmobile Organizations, individual province offices, and Snowmobile clubs.